The Dallas Mavericks have been the bane of John Hollinger's existence this season. You see, while the Mavericks sit second in the Western Conference as of this morning, they are 15th in Hollinger's Power Rankings, and fans have been all too happy to share with Hollinger their opinion of his formula, often expressed four letters at a time.
The discrepancy is this: Despite the team's strong record, Dallas' point differential is last among the eight playoff teams in the Western Conference and behind four teams from the East. The Miami Heat, not considered any kind of legitimate threat to win a championship, has an identical +2.2 differential. Hollinger's power rankings do not factor in wins and losses but look strictly at a team's point differential.
There's solid logic behind that thinking. In a study three years ago, I showed that differential was substantially more correlated with a team's record the following season than any alternative measure. The worst metric I considered? Win-loss record. Similar studies have shown the same thing time and again: At the aggregate level, point differential is a better measure of a team's underlying level of performance than its record in the standings.
End of story? Not quite. First, let's consider that there are two primary ways in which a team's point differential and its win-loss record can end up diverging. One is a team that wins a lot of games but rarely blows out its opposition. On the San Antonio Spurs blog 48 Minutes of Hell, a post yesterday noted that the L.A. Lakers are tied for seventh in the league in double-digit wins while the Spurs are tied for second, which explains why San Antonio briefly passed the Lakers in terms of differential despite trailing them by 7.5 games in the standings. The Lakers have shown a tendency the last two years to toy with lesser teams and beat them without blowing them out, while the Spurs' killer instinct has been greater. The implication is that, as last year, the Lakers may have a second gear to use in the playoffs when every game is meaningful.
Dallas' situation is a little different. The Mavericks have such a good record in large part because they have gone 18-7 (.720) this season in games decided by five points or fewer, the league's best winning percentage and win total in close games. In the eyes of differential, many of these games are essentially ties--outcomes that could have gone either way depending on a few breaks.
There are, generally speaking, two schools of thought on close games: That they reveal a team's true ability and that they are decided by luck. My research on the subject last year for Basketball Prospectus offered a middle ground, suggesting that good teams win close games more often than bad teams, but that the element of randomness mitigates the talent gap.
Let's apply the results of that research to the Mavericks. Dallas has gone 33-20 (.623) in games decided by more than five points. On average, a team with that kind of non-close performance will win close games at a .543 clip. The difference between that and the Mavericks' actual record (+.177) is the second-largest gap in the NBA this season. Dallas has won 4.4 more games decided by five points or fewer than we would expect, and the impact of that in the West standings is obvious. With average performance in close games, the Mavericks would be eighth in the conference, same as by differential.
Here's the thing, though. This isn't the first time Dallas has been so successful in close games. In 2006-07, the Mavericks went 20-4 in games decided by five points or fewer, the best record in the period of nearly a decade for which I have data. Last year, they were 17-5. In five of the last six years, Dallas has outplayed its expected record in close games. Check out where those Mavericks squads sit (in red) on this graph of non-close records vs. close records for all teams over the last nine seasons, which also includes a best-fit line showing the general expected record in close games for a team with the given winning percentage in non-close games.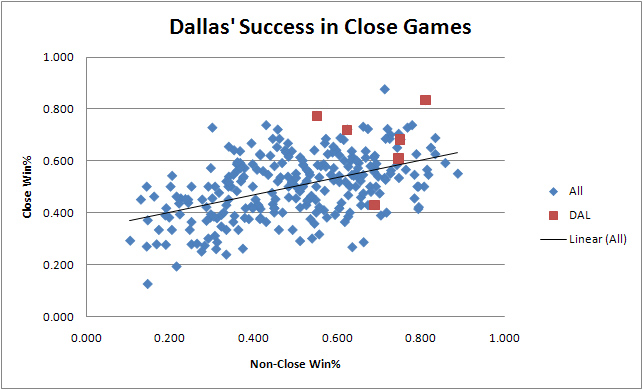 In more detail, here's how Dallas has performed in close games since the departure of Steve Nash and the addition of Jason Terry prior to the 2004-05 season. (I don't want to suggest that Nash is un-clutch or anything, but the Mavericks showed no tendency to play especially well in close games prior to the changing of guards.)
Season    CW   CL    CW%   xCW%    Diff
---------------------------------------
2004-05   14    9   .609   .584   +.024
2005-06   15    7   .682   .586   +.096
2006-07   20    4   .833   .606   +.227
2007-08    9   12   .429   .565   -.137
2008-09   17    5   .773   .519   +.253
2009-10   18    7   .720   .545   +.175
Three of those years are good enough to rank among the largest 13 differences between expected and actual performance in close games in the last nine seasons.
Team          Year   CW%   xCW%    Diff
---------------------------------------
Sacramento   0102   .875   .573   +.302
New Jersey   0708   .727   .436   +.291
Portland     0708   .737   .479   +.258
Dallas       0809   .773   .519   +.253
Miami        0607   .720   .488   +.232
Dallas       0607   .833   .606   +.227
Orlando      0405   .654   .449   +.205
Utah         0506   .684   .484   +.200
New Orleans  0506   .667   .467   +.200
Utah         0304   .684   .489   +.195
New Orleans  0910   .640   .453   +.187
Charlotte    0607   .636   .458   +.178
Dallas       0910   .720   .543   +.177
My conclusion in last year's column was that we can't tell anything about a team's "true" ability to win close games from a single season's worth of data because the sample sizes are simply too small. However, multiple seasons give us a much more robust sample for the Mavericks. Are we observing a unique talent for winning close games?
What makes this possibility so intriguing is the fact that Dallas owner Mark Cuban is a major believer in clutch statistics, something that separates him from most of the rest of the analytical community. Consider the discussion of clutch stats during the "Limits of Moneyball" panel both Cuban and Houston Rockets general manager Daryl Morey participated in at the MIT Sloan Sports Analytics Conference, as captured by M. Haubs for The Painted Area:
-- [Moderator Michael] Lewis asked Morey if he believed in clutch stats, long a controversial difference between common fans - who worship the art of the clutch - and statheads - who tend to believe that the idea of clutch statistics are not definitive and conclusive.

Morey artfully answered, "We don't make any decisions based on the belief of that." Interestingly, Cuban disagreed, and said that that was one reason he wanted (Jason) Kidd, whom he believes plays differently in "win time" than he does in the other 45 minutes of the game.
Cuban has also made it clear that the WinVal numbers produced for the Mavericks by Jeff Sagarin and Wayne Winston prior to this season were adjusted to take into account the importance of the situation. Could Cuban's interest be paying off in terms of close wins?
The caveat is this: Someone has to outplay their expected record in close games more than any other team, and it's dangerous to start from an observation and work backward to find an explanation. Besides, as it turns out, that team isn't the Mavericks. If you add up the total differences between actual and expected records in close games going back to 2004-05, Dallas ranks second behind this year's leaders, the New Orleans Hornets.
It is much more challenging to explain why the Hornets have been so successful in close games in recent years. Yes, New Orleans can rely on a dynamic star in Chris Paul, but there's no evidence that a superstar player has much impact on whether a team wins its close games. The Cavaliers and Lakers haven't done much better than we would expect based on their record in non-close games over the last six years, and Denver has actually done worse despite one of the league's premier clutch shooters in Carmelo Anthony.
Ultimately, I'm not quite sure what to take from the Mavericks' history of exceeding their projected record in close games. Keep this in mind, however. The value of point differential really doesn't lie in power rankings so much as it does predicting the future--in this case, the playoffs. I'm not sure Dallas has evidently gained much of a benefit in close postseason games, and when I'm predicting the Mavericks' chances starting next week I'm more likely to rely on their differential than I am their record in close games.
APPENDIX - Close Game Performance for 2009-10
Tm    CW   CL    CW%   xCW%    Diff
-----------------------------------
ATL   12   10   .545   .556   -.011
BOS   16   10   .615   .547    .068
CHA   14   18   .438   .539   -.101
CHI   11    8   .579   .485    .094
CLE   13    9   .591   .621   -.031
DAL   18    7   .720   .543    .177
DEN   11    7   .611   .558    .053
DET    9   11   .450   .428    .022
GSW    5   16   .238   .447   -.209
HOU   15    8   .652   .487    .165

Tm    CW   CL    CW%   xCW%    Diff
-----------------------------------
IND    6   10   .375   .465   -.090
LAC    8    8   .500   .438    .062
LAL   13    6   .684   .577    .107
MEM   14   12   .538   .496    .042
MIA   11    8   .579   .522    .057
MIL   14   16   .467   .544   -.078
MIN    5   13   .278   .392   -.114
NJN    2   14   .125   .384   -.259
NOH   16    9   .640   .453    .187
NYK   10   11   .476   .441    .035

Tm    CW   CL    CW%   xCW%    Diff
-----------------------------------
OKC   12   13   .480   .562   -.082
ORL    8    7   .533   .585   -.051
PHI   10   20   .333   .447   -.114
PHO   11    8   .579   .562    .017
POR   12   11   .522   .554   -.032
SAC   13   11   .542   .404    .138
SAS    9   10   .474   .556   -.083
TOR   13    8   .619   .482    .137
UTA    9   10   .474   .569   -.095
WAS    9   20   .310   .438   -.128
Follow Kevin on Twitter at @kpelton.
Kevin Pelton is an author of Basketball Prospectus. You can contact Kevin by clicking here or click here to see Kevin's other articles.