To win 56 games during the regular season, the Boston Celtics had to defy age. If the Celtics are going to stay among the ranks of Eastern Conference contenders in 2011-12 after injuries and the Miami Heat proved too much to overcome in the postseason, they'll have to do it again.
After losing Game 7 of the 2010 NBA Finals at the Staples Center in Los Angeles, Boston's stars placed renewed value on the importance of the regular season and trying to secure home-court advantage. Though the Celtics ended up finishing third in the East, which gave Miami home court in the conference semifinals series between the teams, they did win six more games than in 2009-10. Boston's Big Three--Ray Allen, Kevin Garnett and Paul Pierce--all improved upon their statistical production, an impressive feat given that all three players are well into their 30s.
As ESPN.com's Bill Simmons tackled earlier this season, rigorous offseason conditioning and work in the gym have helped Allen, Garnett and Pierce stave off age. Still, it's a question of when and not if the Celtics' stars will drop off. At some point, decay in their games is inevitable. The question that Boston needs to answer this offseason is how significant that decline will be in 2011-12.
According to Basketball Prospectus' SCHOENE projection system, Allen is the most likely candidate for a decline. He turns 36 this summer, a point past which only one shooting guard since the ABA-NBA merger has been able to play at an All-Star level: Michael Jordan. For the most part, wing players are in steep decline by the time they pass 35. Of the 20 players most similar to Allen by SCHOENE's method--which considers statistical production, style of play, height and weight--every one declined the following season.
The exception to this rule, as you've probably already guessed, is Allen's NBA doppelganger: former Indiana Pacers star Reggie Miller, whose record for career three-pointers Allen surpassed this season. There's no reason to believe that Allen cannot follow Miller down the path of gentle decline until retirement. With the exception of Allen's aberrant 2009-10 regular season, the per-minute win percentages the two players have posted by Basketball Prospectus' metrics have been virtually identical at the same age.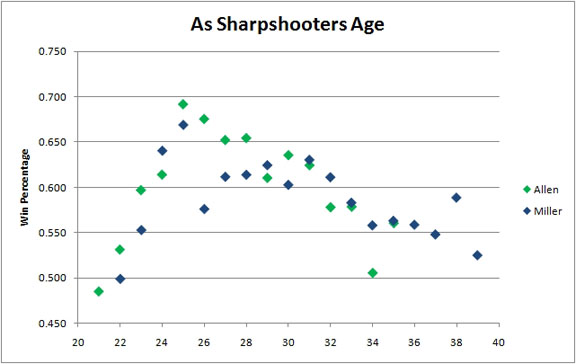 Yet even Miller did slow down a little late in his career, becoming a secondary option on offense. He made his last All-Star appearance in 1999-2000, when he was 34, so Allen already has him beat there. But the playoffs might have been an indication that it will gradually become more difficult for Allen to free himself for good shot attempts. His usage rate declined from 19.8 percent of the Celtics' plays during the regular season (a tick below league average, which is 20 percent) to 17.6 percent during the postseason.
At 35, Garnett is a bit younger but has more mileage, having played nearly 44,000 career minutes--a total that already ranks him 13th in NBA history. The track record of Hall of Fame post players indicates that Garnett has one more year left of elite basketball. For example, 36-year-olds Charles Barkley and Hakeem Olajuwon combined for 29.2 wins above replacement by Basketball Prospectus' rating system as teammates on the 1998-99 Houston Rockets. The following year, both players were sidelined most of the season by injuries and combined for just 5.5 WARP.
In other words, both Allen and KG have a chance of maintaining their level of play for another season, but a drop-off by either player would not be at all surprising.
The assessment is more optimistic for Pierce, who will celebrate his 34th birthday next October. Pierce may not be able to entirely match his 2010-11 effort--which was his best season since 2007-08--but expect his statistics to be similar to where they were the previous two seasons, both of which resulted in All-Star berths.
On the court, the Big Three has long since grown to include a fourth member in All-Star point guard Rajon Rondo. One reason for optimism about the Celtics is that Rondo, at 25, is still young enough to be in a period where most point guards tend to improve their game. In the wake of injuries and shaken confidence in his outside shot, it's easy to forget that just last fall Rondo seemed to be taking his game to new heights. If Rondo gets healthy and reverses last year's sudden decline in his free throw rate, he has the talent to carry more of the load for Boston.
As much as the age of the Celtics' stars, the team's biggest issue looking ahead to 2011-12 is finding a fifth player to fill out the team's go-to group. Even if Shaquille O'Neal opts against retirement, his ongoing injury issues make it impossible for Boston to count on him in the middle. Jermaine O'Neal had his moments in the playoffs, but on average the 10 players most similar to him rated below replacement level the following season. Age isn't an issue for Glen Davis and Jeff Green, but both were found lacking during the series against the Heat as Doc Rivers shuffled his finishing lineup to little effect.
Most likely, the days of the Celtics placing four starters in the All-Star Game are over. As Allen, Garnett and Pierce slow down, Boston has few options besides Rondo for replacing the lost production. That, more than anything else, could prove the downfall of the Celtics--unless their stars truly prove ageless.
A version of this story originally appeared on ESPN Insider

.
Kevin Pelton is an author of Basketball Prospectus. You can contact Kevin by clicking here or click here to see Kevin's other articles.