Drew is counting down his top 100 players for 2012. Previously: 71 to 100, 51 to 70, 36 to 50, and 21 to 35.
Top 100 by high school ranking
High school rank No. 1 thru 3 nationally: 4
4-10: 9
11-25: 15
26-50: 12
51-100: 14
Unranked: 46
Three of those four top-3 guys are incoming freshmen this year: Anthony Davis, Austin Rivers, and Michael Kidd-Gilchrist.
Top 100 by class
FR: 10
SO: 28
JR: 29
SR: 33
Top 100 by position
PG: 25
SG: 22
SF: 13
PF: 24
C: 16
There are never enough true centers. I counted John Henson as one and there are still only 16. I think the low small forward count is probably just me typically categorizing guys as guards or bigs rather than a dearth of small forward talent this season. Although, really, there aren't a ton of true small forwards at the college level, either.
20. Arsalan Kazemi, Rice (Jr., PF)
Kazemi is the first Iranian ever to play Division I basketball. He clearly needs a nickname. (I googled "rhymes with Iranian," because any nickname for Kazemi should clearly be in the "Italian Stallion" vein, but I got were other nationalities. Ukrainian, Romanian, Lithuanian...not helpful. If someone comes up with a good nickname, I will be on the front lines pushing it.) The only person with a higher defensive rebounding percentage in 2011 (not counting Thomas Robinson) was Kenneth Faried, and he did it against Ohio Valley competition. The only player with a higher free throw rate was Navy's O.J. Avworo, and he was pretty shaky at the rest of basketball, at least on the offensive end. Kazemi was a top 20 offensive rebounder, a 53 percent two-point shooter, and a 72 percent free throw shooter who used 27 percent of Rice's possessions and kept his turnover rate to 14 percent. No name above him on this list got less publicity. The Owls return their top four in 2012 -- I'm not sure they're ready to hop into the top tier of Conference USA, but if they do it'll be because of this man.
19. Jeffery Taylor, Vanderbilt (Sr., SF)
Taylor's quite a player, I just happen to think two of his teammates, John Jenkins and Festus Ezeli, are even better. The senior small forward is probably the best defensive player, but Ezeli is an outstanding shot-blocker. Taylor's very clearly the third best offensive player. Jenkins is as good a shooter as you'll find (percentages of 54/41/89), and he never turns the ball over. Ezeli was a monster on the offensive glass, shot 59 percent from the floor, and drew fouls at a high rate in 2011. Taylor used a good number of possessions and was reasonably efficient. His offensive game rates more with the likes of Trent Lockett than with his teammates -- rock solid, certainly, but not elite.
18. Perry Jones, Baylor (So., C)
It's worth venturing over to Baylor's Kenpom page to see just how statistically identical Perry Jones and Quincy Acy really were in 2011. Acy shot a few more free throws and blocked a few more shots, but otherwise their lines are virtually indistinguishable. Projecting Jones to be an All-American means either you either think Acy is a lot better than I do or you're doing a metric ton of projection. Now, don't get me wrong. Acy was a junior, Jones was a freshman; Acy's ceiling is closing in, Jones's doesn't exist. I put Jones at No. 18 and Acy probably would have made a push if I expanded to 150. But high upside guys continue to make sales based on what they could be. I expect Perry Jones to make a serious leap. I just don't expect him to suddenly be Perry Jones, fully realized.
17. Jeremy Lamb, Connecticut (So., SG)
I know I already said Nate Wolters was the toughest rank in Division I, but I may have lied. It might be Lamb. Based purely on offensive rating and possessions used, Lamb's 2011 season is comparable to those of Terrence Ross, Jae Crowder, and teammate Alex Oriakhi. Which is fine, but that wouldn't put Lamb anywhere near this part of the list. Essentially if UConn doesn't at least make the Final Four, Lamb would be ranked somewhere behind William Buford because Lamb never would have been able to demonstrate his improvement. But the Huskies did make the Final Four, won the title, and Lamb was clearly a major part of that. Two graphs: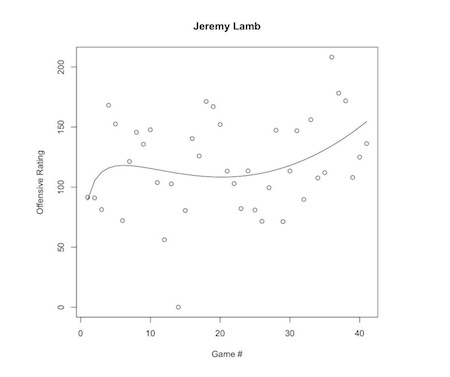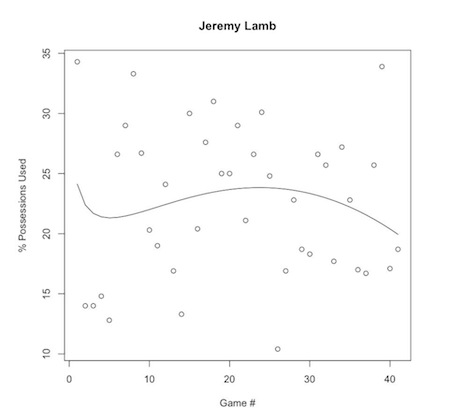 I fit curves to Lamb's offensive ratings and possessions used. Don't be fooled by the fact that the curves are mirror images. Lamb's usage rate trendline fluctuates between 20 and 24 percent, while his offensive rating trendline starts out below 100 and ends above 150, despite facing improved defenses at the end of the season. Where you rank Lamb depends almost entirely on how real you think his improvement was, and I'm almost comfortable ranking him this high. Lamb's floater may be the most dangerous weapon in the country, and he plays the game at a level of smooth nobody in D-I can touch. Still, I'm holding that spot at the superstar table open for someone else if Lamb doesn't come out of the gate with guns blazing this season.
16. Ashton Gibbs, Pitt (Sr., PG)
It's not a great sign for the Big East that Gibbs is my pick for preseason conference Player of the Year. There's not a strong argument for anyone but Gibbs as the best returning shooter in the country, though John Jenkins and Kevin Foster should probably at least be mentioned. That said, Gibbs isn't a great defender, doesn't have much of a slasher game, and wants to use this year to demonstrate to NBA scouts that he can be a true point guard. Talib Zanna, Dante Taylor, J.J. Moore, and Nasir Robinson may be a good enough surrounding cast for Gibbs to make Pitt a tough team again in a weaker Big East. That is a team, though, that needs Gibbs to be both a featured scorer and a successful distributor. If he can adjust to getting open shots with Moore and Robinson getting him the ball (instead of a great passer like Brad Wanamaker), he could have an incredible season. But I still have unanswered questions.
15. Tyler Zeller, North Carolina (Sr., C)
Zeller's got a great gig. Name me a more talented player with less pressure on him. If the offense is bad, it's Harrison Barnes's fault. If the defense is bad, it's John Henson's fault. Zeller just calmly shoots 55 percent from the field and 76 percent from the line, day in and day out. He's a fine rebounder offensively, but scarcely needed to outperform Reggie Bullock and Justin Watts on the defensive boards. Zeller blocks a shot now and then, never turns the ball over, and he's got Kendall Marshall setting him up for buckets. The downside to Zeller's situation is that people can forget just how good he really is. There may not be a D-I player with a wider, more consistent array of post moves, and no returning player had a higher offensive rating while using as many possessions. Zeller may be the fifth- or sixth-most written about Tar Heel this year, but he'll quietly, efficiently dismantle opposing big men all season long.
14. Draymond Green, Michigan State (Sr., PF)
Green was a solid scoring option for Michigan State against the best schedule in the country. Despite being 6-6, he was an excellent rebounder, especially on the defensive end, and a he created his share of chaos on defense. He's in the top 10 among returning Big Ten players in both block percentage and steal percentage. And -- and this shocked me -- his assist rate was 31 percent. That's higher than Tu Holloway's. And Jordan Taylor's. And Nolan Smith's, Mickey McConnell's, Aaron Craft's, and Kalin Lucas's. It was almost double the assist rate of any other Big Ten player his height or above in 2011. Green may have brought more to the table last year, scoring notwithstanding, than any returning player.
13. Joshua Smith, UCLA (So., C)
With Miami's Reggie Johnson on the DL for the start of the season, Smith will have to carry the torch for underrated and lumbering big men for a little while at least. Smith trailed only Kenneth Faried in offensive rebounding percentage last year and shot 56 percent from the floor while using 26 percent of UCLA's possessions. Like Johnson, Smith has problems with both foul trouble and stamina but is extraordinarily effective in his time on the floor. If you disagree that he's the preseason Pac-12 Player of the Year, just be prepared to pick someone else who doesn't sound like a home run. (My top five Pac-12 players for this year: Smith, Jared Cunningham, Jorge Gutierrez, Trent Lockett, Reeves Nelson. The leader in preseason hype may be Josiah Turner. I don't think most people realize just how wide open this race is.) Amazingly, the Pac-12 favorite may be UCLA. While Smith and Reeves Nelson can go against just about any frontcourt in the country (bolstered by the Wear twins and Brendan Lane), the Bruins' backcourt will consist of some combination of Lazeric Jones, Jerime Anderson, Tyler Lamb, junior college transfer De'End Parker, and freshman Norman Powell. Now, that sounds like a perfectly fine team. Just not a major-conference champion. The Pac-12 could use a talent influx -- and soon -- because this down period is already three years and counting.
12. Robbie Hummel, Purdue (Sr., PF)
It's really strange to me that Hummel was a unanimous preseason All-America pick ten months ago, but I've heard few people throw his name into that discussion for this year. I'm not saying that's wrong -- the poor kid keeps tearing the same ACL -- but it is unusual. Usually season-long injuries are treated as if a player got in a time machine and skipped a year. That's probably wrong, although I'm largely treating Hummel that way here. (I'm adding this to my list of "things to look into." How do players bounce back after an injury redshirt?) Hummel comes back from injury to find a Purdue team without career-long teammates JaJuan Johnson and E'Twaun Moore. For the first time in his college life he'll be the focal point of the opposing defense. Instead of some of the opposition's imagination being used to combat Johnson and Moore, Hummel's top two teammates will probably be Ryne Smith and Lewis Jackson. Finally, two things you may have forgotten while Hummel's been away: He never, ever turns the ball over, and he shot 90 percent from the free throw line.
11. John Henson, North Carolina (Jr., C)
You have to go all the way back to C.J. Leslie at No. 51 to find a player who had a lower offensive rating last year than Henson. The North Carolina junior is an excellent rebounder on both ends, he shot 51 percent on his twos, and turnovers weren't a problem last year. The gaping hole in Henson's game is that he spends a lot of time at the free throw line, but shoots just 48 percent there. It's strange to think that drawing more fouls and being at the line more often can be a problem, but Henson is a bad enough free throw shooter that it really is. On the other hand he was maybe the most terrifying shot-blocker in the nation (although it does feel a little wrong to call someone who's built like Henson "terrifying"). He was the only player in the country who had what I call an Oden Effect on defense. (The Greg Oden Effect: Being such a good shot-blocker that it changes the choices of people ten feet away. The range of Oden's Greg Oden Effect was basically the half-court line.) If Henson added a little killer instinct, or, really, just started hitting 65 percent of his free throws, he'd be in real discussions for the No. 6 spot here, because his offensive game is still progressing.
Drew Cannon is a college student and a regular contributor to Basketball Prospectus. Follow him on Twitter at @DrewCannon1.
This free article is an example of the kind of content available to Basketball Prospectus Premium subscribers. See our Premium page for more details and to subscribe.
Drew Cannon is an author of Basketball Prospectus. You can contact Drew by clicking here or click here to see Drew's other articles.