On Wednesday, Kobe Bryant became the fifth member of the NBA's 30,000-point club. While round numbers have never meant as much in basketball as they do in baseball--Bryant's accomplishment got little more fanfare than a baseball player joining the much less exclusive group with 3,000 hits--the accomplishment was one worth celebrating, and it got me thinking who might join Bryant, Kareem Abdul-Jabbar, Wilt Chamberlain, Michael Jordan and Karl Malone in this circle.
Ordinarily, given how exclusive the 30,000-point club has been to date, the answer would probably be "nobody." However, we may be in for expansion because players are entering the NBA earlier and playing effectively longer than ever before. Most likely a couple of active players will score at least 30,000 points, and possibly more.
To estimate those odds, I turned to an old Bill James invention known as "favorite toy" that estimates a player's chances of reaching any statistical goal based on their age, remaining amount needed and a benchmark from the last three seasons. That yields a list of 16 players with a non-zero chance of reaching 30,000:
Player               Age     Rem    Bench    Sea      %
--------------------------------------------------------
LeBron James        27.9    10527    2126    7.2    90.5
Kevin Durant        24.2    19519    2282    9.5    58.1
Dirk Nowitzki       34.5     5866    1732    3.3    48.1
Carmelo Anthony     28.5    13626    1754    6.9    35.8
Russell Westbrook   24.1    23674    1786    9.6    20.9
Dwight Howard       27.0    18213    1537    7.8    14.6
Dwyane Wade         30.9    14739    1660    5.5    10.5
Monta Ellis         27.1    21224    1648    7.7     9.2
Derrick Rose        24.2    24142    1474    9.5     8.0
Paul Pierce         35.1     7065    1453    2.9     7.1
Kevin Love          24.2    25196    1522    9.5     6.7
Chris Bosh          28.7    16941    1396    6.8     4.8
Blake Griffin       23.7    26471    1465    9.8     3.4
LaMarcus Aldridge   27.4    21890    1562    7.6     3.1
Josh Smith          27.0    20731    1406    7.8     2.3
Rudy Gay            26.3    21864    1383    8.2     1.3
Brandon Jennings    23.2    26165    1334   10.1     0.8
The way favorite toy works, and appropriately so, is to regard younger players as having a much wider range of possibilities. So it is that Brandon Jennings, still more than 26,000 points away, has a chance by virtue of his 10-plus estimated seasons remaining, while just two of the six active players besides Bryant who have surpassed 20,000 points show up.
The best chance of seeing someone join Bryant in the near future belongs to Dirk Nowitzki, who would have to play at his benchmark for three and a half seasons to get to 30,000. If this year is the half, Nowitzki would need play only to 38. In reality, Nowitzki's pace will surely slow, in part due to injury, so we might be looking at the 2016-17 season before Nowitzki could potentially get to 30,000.
Looking beyond, LeBron James is already close to a lock for 30,000. Barring major injury, he will get to 20,000 this season at age 28, leaving him somewhere around a decade to add to his prodigious total. Injury is really the only way James' path to 30,000 could be derailed. Something similar is true of Kevin Durant, though he only reached 10,000 career points this season. Durant's combination of youth and league-leading scoring makes him more likely than not to score 30,000 even by what is intended to be a conservative assessment.
Both Durant and James are ahead of Bryant's pace at the same age, as charting their career scoring totals by age--not including this season--shows.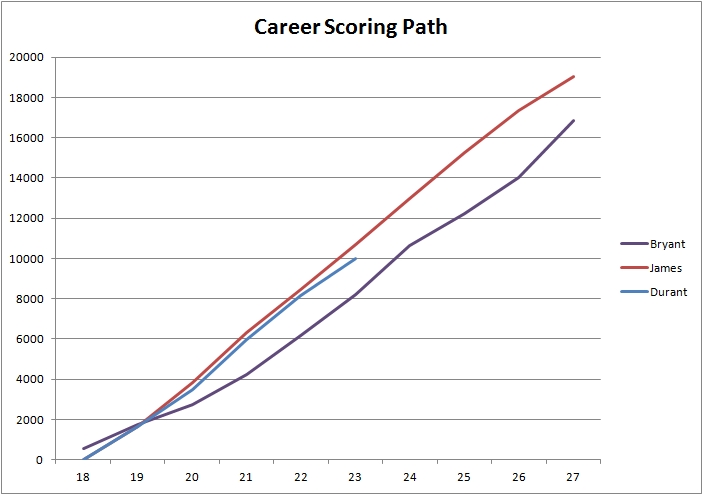 Next is a group of three players that have a realistic shot at 30,000, but will need to work to get there. Carmelo Anthony is more than halfway there and has years of prime production ahead. Still, scoring 30,000 career points will require him to remain effective beyond his prime. Same with Dwight Howard, and we don't entirely know how his scoring production will be affected by playing with Bryant for the next few seasons. Russell Westbrook could follow his teammate into the 30,000 club a few years later. Durant got a head start by entering the NBA a season earlier, but Westbrook's scoring output hasn't been far behind since then.
Beyond those six players, anyone else is a longshot. Dwyane Wade is the most prolific of the group, yet he's still just halfway to 30,000 because of injuries and a relatively late start to his career. We'll know more about the chances of young players like Blake Griffin and Kevin Love in a couple of years, and Paul Pierce would probably have to play effectively at least to 40 to reach 30,000.
As for a handful of players on the list, including Jennings, LaMarcus Aldridge, Rudy Gay and Josh Smith, the appropriate reaction is to channel Lloyd Christmas.
UPDATE: The chart above was initially missing Derrick Rose, who did not appear in my list because he has yet to play this season, and incorrectly had players' remaining points as of the start of the 2012-13 season. Thanks to Royce Young and Trenton Jocz for pointing out the errors.
It's worth a quick note on Rose to discuss how much injuries have affected his chances of reaching 30,000. So far the ACL injury that has him sidelined at the moment is not a big factor; Rose's odds were just 8.4 percent entering the season. The real issue is the injuries that limited Rose last season, in conjunction with the lockout, which both took him off pace and cut into his benchmark. After his 2010-11 MVP turn, Rose's chances were as high as 22.3 percent.
This free article is an example of the kind of content available to Basketball Prospectus Premium subscribers. See our Premium page for more details and to subscribe.
Kevin Pelton is an author of Basketball Prospectus. You can contact Kevin by clicking here or click here to see Kevin's other articles.