In case you needed a reminder that relying on a superstar's late-game heroics is a dangerous way for a basketball team to make a living, the Los Angeles Lakers have supplied it within the last week. While Kobe Bryant made the game-winner with 1.9 seconds left on the clock Tuesday against Toronto, Bryant's game-tying shot late in regulation last Thursday at Miami did not translate into overtime success and he missed at the buzzer Sunday in Orlando.
Since those pair of road losses were sandwiched around a 15-point defeat in Charlotte, the result was the Lakers' first three-game losing streak since acquiring Pau Gasol in January 2008. It's hard to imagine, then, the panic that would have ensued had the Raptors somehow pulled out a win at the Staples Center.
While Bryant may have staved off hysteria among Laker fans, in terms of the team's actual performance his game-winner changed little. When adjusted for location, score and opponent, Tuesday's game was worse than either of the Lakers' close road losses and a below-average performance. Meanwhile, there was no shame in losing to the Magic on its home court. In fact, the adjusted game score (+6.9 points above average) for that game was basically a typical performance for the Lakers.
Viewed through that prism, L.A.'s three-game losing streak wasn't a big deal. Road losses happen, especially in close games, and the Lakers joined Boston and Cleveland as teams who have gone 0-3 on the kind of strange extended weekend frequently dictated by the NBA's national TV schedule (marquee matchup on Thursday, back-to-back game on Friday, marquee matchup on Sunday).
Still, the bigger picture offers some cause for concern. Over their last 10 games, the Lakers are just 5-5, and adjusting for schedule doesn't entirely explain away that performance. Their average game score in that span (+2.4) is way down from their performance over the course of the season (+6.0). As troubling as the five losses, all of them close save for the one in Charlotte, is that the Lakers haven't been especially impressive in their victories. Beating Denver is a quality win, and the Lakers blew out Indiana at home last Tuesday, but they've also let middling teams like Golden State, Philadelphia and Toronto play close at home. The problem for the Lakers hasn't been poor execution down the stretch, it's been the fact that they've put themselves in a position to need to win those kind of close games.
The biggest culprit, as you might guess, is the Lakers' offense. That seems strange to say about a unit that features Kobe Bryant and Pau Gasol and is coached by Phil Jackson, but the bump we expected the Lakers would see in their Offensive Rating when Gasol got healthy simply has never come. Over the course of the season, L.A. is 11th in the league in per-possession scoring. Over the last 10 games, the Lakers have been worse than that. In fact, their 107.6 Offensive Rating in that span is worse than league average.
Besides the bottom-line results, a good way to measure how well the Lakers' offense is functioning is the team's rate of assisted field goals. When the triangle is really flowing, the Lakers rack up the assists. They get stagnant when the ball stops and players try to go one-on-one. In 2007-08, the arrival of Pau Gasol midseason helped the Lakers assist on 61.7 percent of their field goals, fifth in the NBA. They slipped to eighth at 57.7 percent a year ago. This season? The Lakers are 19th in assist rate at 54.8 percent, putting them below average. And over the last 10 games, that number has sunk further to 52.2 percent, which is better than merely four teams have done over the course of the season.
To me, the Lakers' passing and execution is a better way to explain why their offense has underachieved than the distribution of their possessions. Take a look at how usage rates compare for the team's starters and sixth man Lamar Odom the last two seasons, with Ron Artest's 2009-10 performance compared to Trevor Ariza in 2008-09: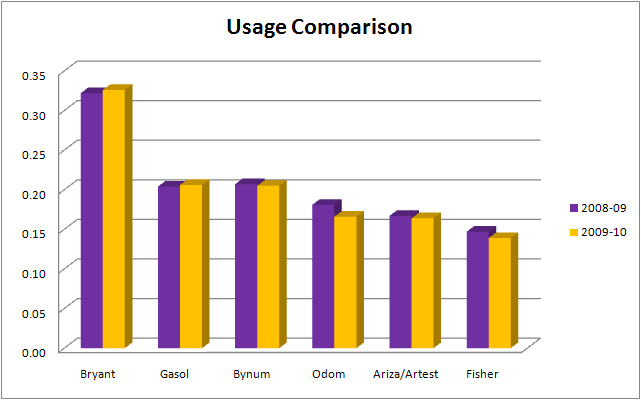 Despite concerns I raised as loudly as anyone, Artest has fit into the same relatively small role on offense played by Ariza a year ago, and Gasol got just as few looks on offense in 2008-09. In fact, the percentage of possessions used by Bryant, Gasol, Andrew Bynum and the starting small forward are virtually identical this year and last. The only changes are minor drop-offs in the usage rates of Odom and Derek Fisher, with most of those possessions apparently going to Shannon Brown. So whether this distribution of possessions is ideal or not, it certainly has a proven track record of success.
The bigger problem for the Lakers has been that only one of their top six players has been as efficient with those possessions as they were a year ago (again comparing Ariza to Artest). Their True Shooting Percentages in that span:
Player         08-09   09-10    Diff
------------------------------------
Fisher          .546    .500   -.046
Bryant          .561    .546   -.015
Ariza           .544
Artest                  .518   -.026
Gasol           .617    .572   -.045
Bynum           .598    .604   +.006
Odom            .542    .532   -.010
There are a variety of reasons for these declines. Bryant and Gasol have battled injuries, Fisher is aging rapidly and Artest simply has never been particularly efficient as a scorer. Still, the across-the-board nature of the drops leads me to believe that part of the explanation lies in the fact that the Lakers' offense isn't generating the same kind of quality looks with its passing as a year ago.
How do the Lakers fix that? The possible return of Luke Walton, who has been out since mid-February with a pinched nerve in his back but hopes to get back for the playoffs, could help. Walton is arguably the Lakers' best passer, and the team's Offensive Rating has been better in the 24 games he has been able to play this season. More than that, though, Phil Jackson may simply need to get his team to recommit to the fundamentals of the triangle.
Fortunately for the Lakers, an improved defense has allowed them to keep on winning even as they've struggled at times on offense. While the Dallas Mavericks have cut into their cushion in the West standings, the Lakers are still the overwhelming favorites to claim home-court advantage through the conference finals. A late-season swoon hardly dooms a championship contender. In fact, just last March the Lakers went through a 10-game stretch where they went 6-4 with an average adjusted game score of +2.7 that was only marginally better than what they've done in the last 10 games.
That stumble was distant in the rear-view mirror by the time the Lakers hoisted the Larry O'Brien trophy in June. It's certainly possible we'll forget about this stretch too, but the Lakers will need to improve their ball movement to get to that point.
Follow Kevin on Twitter at @kpelton.
Kevin Pelton is an author of Basketball Prospectus. You can contact Kevin by clicking here or click here to see Kevin's other articles.