Trending player: Raymond Felton, PG, New York Knicks
The Knicks' winning streak, which reached eight games on Sunday against the Denver Nuggets, has focused positive attention on newcomers Felton and Amar'e Stoudemire. In Felton's case, the storyline goes like this: After struggling initially in Mike D'Antoni's offense, he has gotten comfortable just in time to lead New York's surge. The numbers bear that out, but only to a point. While Felton is playing some of the best basketball of his career over the past 14 games, during which the Knicks have gone 13-1, his numbers were already sound during the first 11 games of the season.
Split       2P%    3P%    TS%    Usg   Ast%    TO%
--------------------------------------------------
2009-10    .475   .385   .525   .193   .079   .154
First 11   .471   .383   .569   .165   .093   .186
Next 13    .533   .366   .583   .208   .105   .186

(Does not include Sunday's game)
The impact of playing under point guard-friendly D'Antoni can be seen throughout Felton's stat line, including one category not shown here: three-point attempts. Felton is shooting beyond the arc nearly twice as frequently, which explains why his true shooting percentage was so strong early in the season when his shooting percentages were basically the same as they were during his final season with the Charlotte Bobcats. Felton also has the ball in his hands far more often, which has led to increased turnovers but also to the best assist rate of his career.
The big differences in Felton's recent performance might be attributable to improved execution on the pick-and-roll. First, Felton has become a greater scoring threat after being more of a pass-first point guard early in his tenure in New York. But that's nothing new for Felton, who used at least 21 percent of Charlotte's plays during his first four NBA seasons. At the same time, Felton has been more efficient as a scorer than ever because of his fine two-point shooting. He has extended last season's improvement beyond the arc to become dangerous on long 2s, hitting 49.0 percent of his attempts from 16 to 23 feet, according to Hoopdata.com. That gives Felton the ability to pull up when teams go under screens and make them pay.
Trending team: New Orleans Hornets
In the midst of the uncertainty over their future in the Big Easy, the Hornets have a bigger problem in the near term: their recent play. Since starting the season as the league's biggest surprise at 11-1, New Orleans has lost eight of its past 11 games to slip back in the Western Conference pack.
The most suspect aspect of the Hornets' start was their dominant defense, as they were leading the league in defensive rating much of the first month. Since then, the Hornets have slid on defense; they now rank sixth in the league, but they still have been better than average on defense during the past 11 games.
Instead, the issue for New Orleans has been putting the ball in the basket. In nine of the Hornets' past 11 games, they've failed to match the per-possession efficiency allowed by their opponents over the course of the season. That culminated in Sunday's disaster at Philadelphia, when New Orleans shot just 30.4 percent from the field.
The Hornets stand 21st in the league in offensive rating, a mark that is going to make it difficult for them to compete. No above-.500 team has been weaker on offense this season. What's changed for the New Orleans offense has primarily been the team's ability to hang on to the basketball. During the 11-1 start, the Hornets turned the ball over on just 12.6 percent of their plays, a mark that would be tied for best in the league over the course of the season. Since then, New Orleans has been coughing the ball up 14.8 percent of the time, which would rank 26th.
Of the Hornets' regulars, just Marco Belinelli and David West have been immune to the trend:
Player       First 12  Last 11
------------------------------
Ariza          .115      .140
Belinelli      .101      .094
Green          .091      .138
Okafor         .118      .166
Paul           .139      .197
Smith          .108      .179
West           .103      .096
Chris Paul's problems with turnovers might be the most surprising. Over the course of his career, he's typically turned the ball over on around 13.5 percent of his plays--similar to his rate during the team's fast start. Since then, Paul has committed turnovers on nearly a fifth of his plays, a poor mark for a point guard. Paul should be able to bounce back, but for now the miscues are costly.

League trend: A rise in free throw attempts

The difference might not be large enough to detect with the naked eye, but NBA teams are taking more free throws in 2010-11 than they did a season ago. Teams are combining to average 50.8 attempts per game, up from 49.1. What makes this difference notable is that this would be the first time that free throw attempts have increased from one season to the next since 2005-06. Take a look at how free throw attempts have trended as a percentage of all plays dating back to 2003-04: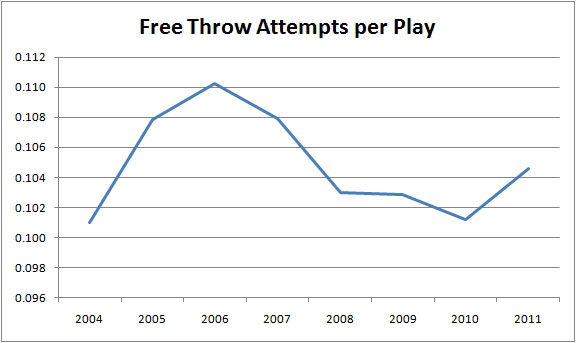 Why the sudden increase starting in 2004-05? It can be explained by the league's rules re-interpretation limiting contact on the perimeter and cutting down on handchecking. It took two years for players and teams to figure out how to exploit the way referees were instructed to call the game. Since then, the change has worked exactly as the NBA's rules committee hoped: While the other benefits of a more open game (faster pace, higher scoring) have lingered, whistles had essentially returned to their previous levels--prior to this year's uptick.
This time around, there is no obvious explanation for why free throws are up. A cynic might point to a rise in technical fouls, but the actual impact of the NBA's crackdown on complaining has been limited. Technicals account for an additional 0.2 free throws per game--barely 10 percent of the increase we've seen. Changes of a similar magnitude were not uncommon during the 1990s, when free throws were not trending in any particular direction. Still, this trend is worth keeping an eye on the rest of the season.
A version of this story originally appeared on ESPN Insider

.
Kevin Pelton is an author of Basketball Prospectus. You can contact Kevin by clicking here or click here to see Kevin's other articles.