The NBA's Most Improved Player award often goes to someone whose points per game increased significantly from the previous year. It seems all other factors are secondary.
It often seems the only players who receive credit for improving are those who fill a larger role and thrive in it. Granted, those players deserve recognition.
But we wanted to showcase a different type of improvement.
From last season to this season, no player's points per scoring attempt increased more than Daequan Cook's.* Cook has gone from scoring 0.84 points per scoring attempt last season (351st) to 1.22 points per scoring attempt this season (21st).
*All figures in this post use a minimum of 100 scoring attempts.
The Heat traded Cook to the Thunder last summer, and he's thriving in Oklahoma City unlike he ever did in Miami. Here are Cook's points per scoring attempt each of his four NBA seasons. His years with the Heat are red, and his year with the Thunder is blue. The Y axis is set to the league minimum and maximum this season.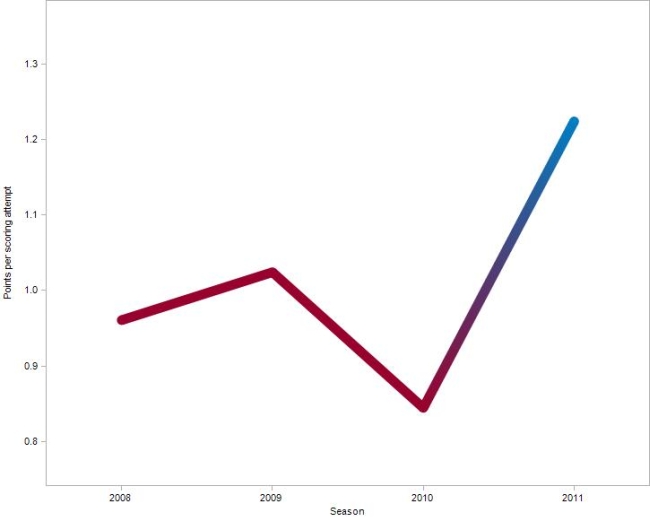 Cook is actually shooting a career-low 80 percent from the free-throw line, so Oklahoma City is clearly using him better between the lines than Miami did.
Cook spotted up, his most common play type, on 35 percent of his possessions used with the Heat last season, according to Synergy Sports Technology. But the Heat also had him working off ball screens frequently. Cook handled the ball on the pick-and-roll in 22 percent of his total possessions used last year. This really hurt Cook's productivity and efficiency, because Cook used ball screens very poorly.

When Cook used ball screens, he scored 0.645 points per possession, which ranked 182nd in the NBA. He shot poorly (25.5 percent) and the ball over a lot (11.3 percent of possessions). It's obvious Cook was simply uncomfortable using ball screens:
Here, Cook comes off the screen and just looks uncomfortable as he pulls up for his shot. Adding to the difficulty is the defender in his face as he pulls up.
On this play, you also see Cook's inability to make a decision when coming off the ball screen. Making quick decisions in that situation is essential. Cook doesn't know whether to pass or shoot, and it leads to the turnover.
The Thunder took the pick-and-roll out of Cook's game, as he has been the pick-and-roll ball handler on just four possessions that end in a pick-and-roll the entire season. So what has the Thunder done with all of those extra possessions? Let him spot-up even more--51 percent of his possessions used this season.

The results have been phenomenal for Cook, who has scored 1.177 points per possession (on 41.8 percent shooting) when spotting up, good for 38th in the NBA. Cook often spots up in the corner and reads the defense as the Thunder run a pick-and-roll on the top:
Here, Cook stands in the corner while Eric Maynor uses a ball screen. Cook reads his defender, who dives in to help on the pick-and-roll. When that happens, Cook slides to the open area, gets the pass and knocks down the jumper.
In particular, Oklahoma City has Cook spotting up almost exclusively behind the three-point arc. A higher percentage of his shots are three-pointers than they ever were in Miami.
His seasons in Miami are red, and his season in Oklahoma City is blue. The Y axis is set to the league minimum and maximum this season.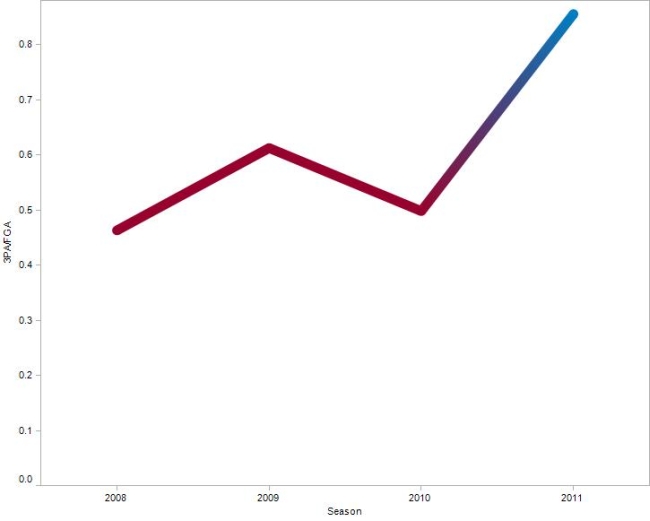 Cook has even become one of the NBA's leaders in percentage of total shots taken behind the arc: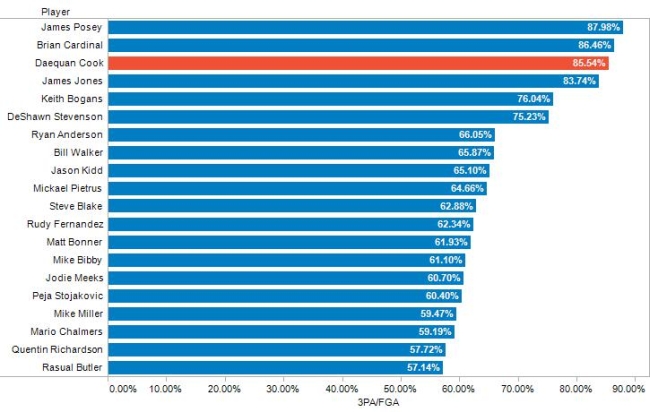 In addition to spotting up, the Thunder has used Cook in transition more than the Heat did. That's mostly due to increased opportunities, because the Thunder rank 13th in pace this year and the Heat ranked 28th last year. But Cook has been good on the fastbreak, too.
Transition is Cook's second-most-used play type this year (15.3 percent of his total possessions). On the break, Cook's role becomes apparent, as he trails the breaking offense on the left side and waits for the basketball behind the three-point arc:
Here, Cook trails the play while Maynor pushes the basketball up the court. Cook appears to be taking it easy, but he's smartly staying back. When Maynor picks up his dribble, he finds Cook wide open on the wing. Cook makes the catch, takes the shot and knocks it down.
If you didn't notice, Maynor assisted Cook in each of the previous two clips. That's par for the course.
It definitely would have been logical to guess Cook has benefited in Oklahoma City mainly from the attention Kevin Durant and Russell Westbrook draw from opposing defenses, but that's not really the case. Maynor has had more to do with Cook's success, partly because he plays more with Cook than Durant or Westbrook do:

Cook has posted a career-high three-point percentage (40.8) and a career-high field-goal percentage (42.2) this season because of his role.
As you saw in the previous clips, Oklahoma City uses Cook as a shooter, putting him in the corner and letting him just catch and shoot off pick-and-rolls. Miami didn't really have a plan for Cook, and he got his shots whenever they came. As a shooter, not knowing when you're getting the basketball affects you mentally. Credit the Thunder coaching staff for identifying what Cook can do well and getting the most from him.
It's funny, in their more-turbulent-than-expected season, the Heat could probably use a player like Cook.
Dan Feldman is an author of Basketball Prospectus. You can contact Dan by clicking here or click here to see Dan's other articles.
Sebastian Pruiti is an author of Basketball Prospectus. You can contact Sebastian by clicking here or click here to see Sebastian's other articles.